Speed Handicapper® Version 6
Using The Connections Tab
Connections Tab Displays Big Data and Selects Each Horse's Details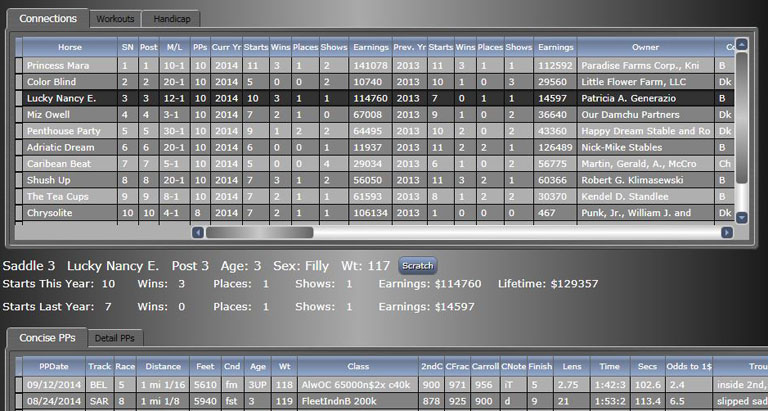 Important to Know:

When you select a horse in the Connections Table, its heading information and Concise and Detailed Past Performances are displayed below.

Notice the vertical scroll bar in the right. Its position indicates there is at least one more horse to view. Be sure to scroll down.

Notice the horizontal scroll bar. When you use it, the horses' names and additional 3 columns hold steady so you can compare the wide range of background data.
Scrolling Horizontally on the Connections Table


Note the first four columns hold on the left to make comparisons easier. Now viewing jockey stats and the horses' lifetime stats.

Note: The Connections Tab must be active to use the PP adjustments. (The exception is "Race Weight and Gate," which becomes active when the Handicap Tab is active and adjusts only that race.)

Note: The Connections Tab must be active to activate the "Scratch" button and function.